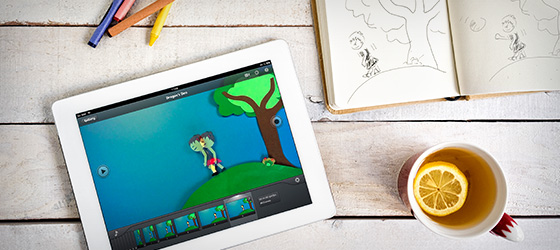 End of summer promotions on Mac and iOS apps from Boinx help you get back-to-school cool; an Editor's Choice Award for iStopMotion for iPad proves it's an A+ app

Puchheim, Germany – August 20, 2014 – With lazy summer days coming to a close, it's time to step up the game again and prepare for the start of the coming school year. This year promises to be one to remember, and Boinx Software's family of award-winning educational apps for Mac and iPad will be by your side in the classroom to create cool stuff and foster essential life skills. Helping both students and teachers to get their creative juices flowing more powerfully than ever before, Boinx is offering special promotions on BoinxTV, iStopMotion for iPad and Mac, FotoMagico and Mouseposé now through September 9th, making them a must-have on everyone's back-to-school shopping list.

Film a stop motion animation illustrating stories from a foreign language class or record a timelapse of storm clouds forming above your town, start a weekly school news broadcast, compile a slideshow presentation with animations, video and funky transitions that will leave powerpoints in the dust, and let Mouseposé point it all out to your teachers and classmates - the possibilities for accelerating your learning experience are endless.

"The end of summer doesn't have to mean the end of fun. With the change in seasons and return of the school year comes new creative possibilities," says Oliver Breidenbach, CEO of Boinx Software. "Limited-time cost savings on our educational apps have made the barrier of entry extremely low for kids and educators, allowing them to let their imaginations run wild with their devices."

iStopMotion for iPad is the Teacher's Pet
Boinx Software's tried and true products continue to receive industry accolades; most recently, Children's Technology Review awarded Boinx with their esteemed Editor's Choice Award for iStopMotion for iPad. According to Children's Technology Review, the Editor's Choice Award is given to only the highest-quality children's products in the interactive media category – "no fail" products, worthy of their cost, that are able to keep children engaged for days at a time.

Ride the Wave of Summer Savings Before It's Too Late!
iStopMotion for iPad just 8.99 USD (10% off)
iStopMotion for iPad brings the classic stop motion animation technique into the modern age, allowing eager animators to create fun animations with just an iPad, imagination and whatever is lying around the classroom ready to come to life. In its review of the app, Children's Technology Review says, "Every aspiring Walt Disney should have an app for iPad like iStopMotion, the king of the hill of animation software."

iStopMotion 3 for Mac just 44.99 USD (10% off)
The parent to iStopMotion for iPad, iStopMotion for Mac comes with advanced capabilities, while still being an accessible filmmaking tool for the masses. Boinx recently announced iStopMotion 3.6, which brings live view support for Nikon and Canon DSLR cameras, allowing animators with these cameras to enjoy the most popular feature, Onion Skinning. The creative classroom possibilities are endless – animate an otherwise boring diorama, make claymations in art class or animate figurines in a historical reenactment. Ben Lawson from Byte Revel noted its ease of use in a recent review, saying, "iStopMotion 3 for Mac makes stop motion animation a breeze."

FotoMagico 4 just 89.99 USD (10% off)
A fan favorite among both professional photographers and consumers, FotoMagico helps users organize summer memories into a stylish slideshow to look back on throughout the year, when laid-back pool days and cookouts are a fond and distant memory. The slideshow innovation doesn't have to stop when school starts, though. FotoMagico is the perfect software for class projects. As Dan Cohen from Gear Diary sums it up in a recent review, "While the software is simple, it is also powerful enough for people who want and need more complexity."

BoinxTV just 199.99 USD (a savings of 300 USD!)
The popular "broadcast truck without the truck" brings studio broadcast-quality production to consumers of all skill levels, allowing kids and school administrators to learn in a completely unique way. Get inspired by how Gustavo Reis uses BoinxTV to compliment learning at the school he opened, Mathematica Et Cetera, producing the weekly live "Math Happy Hour" at the old dentist's office he transformed into a broadcast studio.

Mouseposé – FREE with any purchase!
Give presentations the spotlight they deserve! Mouseposé is the perfect tool to accompany your work. This nifty tool from Boinx dims the computer screen and puts a spotlight on the area around the mouse pointer, easily guiding the audience's attention to an area of interest. Attention spans are short those first few weeks of the school year - Mouseposé helps teachers and students both to get right to the point!

Back-to-school promotions for Boinx Software products end on September 9, 2014

About Boinx Software
Boinx Software Ltd. is located in Puchheim, near Munich, Germany. Boinx Software develops award-winning animation, video production and photography software for the Mac® platform and iOS devices including the iPhone®, iPad® and iPod®. Boinx iStopMotion is the leading solution for stop motion animation and time-lapse capture, used by many thousands of enthusiastic animators at home, in schools, in advertising agencies and professional animation studios. iStopMotion for the Mac was named one of the Best Apps of 2012 on the Mac App Store. In 2011, Boinx Software added iStopMotion for iPad to its family of stop motion animation products. Boinx FotoMagico, winner of two Apple Design Awards, is a presentation tool for professional photographers. BoinxTV, winner of an Apple Design Award, is revolutionary live production software that turns any Mac into a TV studio. Boinx Mouseposé is the indispensable mouse pointer-highlighting tool for users developing presentations, training or demos. You Gotta See This! is Boinx's iPhone 4 app that works off of 4th generation gyroscope technology to create amazing 360-degree photo collages. PhotoPresenter for iOS, Boinx's newest app, allows users to connect an iPhone, iPad or iPod touch to an HDTV set using HDMI or VGA, or via AirPlay, then browse the device's photo library and select specific images or video to display on the second screen.

Follow @boinxsoftware on Twitter and Facebook. For more information, please visit the Boinx Software Website.

Press Contacts
Zazil Media Group
Anya Oskolkova
Anya@zazilmediagroup.com
(cell) +1 617.817.6559
(fax) +1 617.812.7683
(skype) anya.oskolkova

Zazil Media Group
Lauren Leger
Lauren@zazilmediagroup.com
(cell) +1 508.498.8433
(fax) +1 617.812.7683
(skype) lauren.zazil