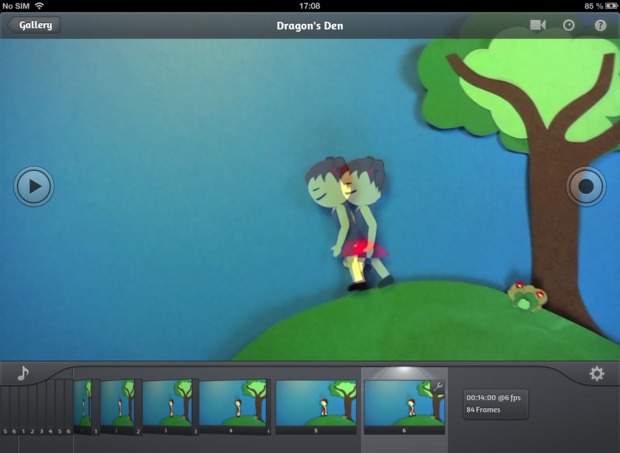 "Today, mobile devices are everywhere, and they are at the forefront of becoming the most innovative and dynamic tool in education," says Sumit Vishwakarma of Mobile Art Academy, an organization in Silicon Valley that provides services to anyone who is ready to explore the world of mobile art. "We see kids using the iPad everywhere, and I feel that the iPad can be innovatively used to explore creativity. The goal of Mobile Art Academy is to explore and educate people about this creative aspect of mobile devices."
Mobile Art Academy helps students create and share digital content and media focusing on art and cross-curricular learning, with help from today's most popular technology. The organization gives students the tools they need to explore drawing and painting, digital photography, digital storytelling, animation, graphic design and much more. Sumit was already familiar with stop motion animation when he met an iStopMotion developer at Macworld 2013. He saw a live demo and was so impressed by the app that he integrated it into Mobile Art Academy's course load immediately.
To decide what tips and tutorials to post on Mobile Art Academy's blog, Sumit experiments with different apps – like iStopMotion – and then develops a workflow. Luckily for us, he then posts these workflows and tips so that others can benefit from the techniques. Some of Sumit's favorite blog posts have been iStopMotion animations like this one and this one!
"I like iStopMotion's onion-skinning feature," Sumit says. "This tells you exactly where your subject needs to be in the current frame to have a smooth stop motion. Other apps miss this key feature."
Sumit also particularly likes the remote camera capability of iStopMotion, which lets him use his iPhone as the capturing device rather than the iPad, which is sometimes too bulky. He's constantly looking to create new stuff, be it animation or art, and he's always offering interested students a hand with their own projects as well. Mobile Art Academy is currently offering online classes in iPad art and animation classes. To learn more or sign up, check out the class listings here!
Sumit strongly believes that using technology such as the iPad to learn is vital for kids today. "They say a picture is worth a thousand words, and to adhere to that I would say an animation is worth a million," he says. "If you want to explain a science concept, an idea or a thought, stop motion animation can be really helpful." For example, Sumit says that if he wanted to explain the process of photosynthesis to his four-year-old, he would prefer to use play-dough and create a stop motion showing a plant grow instead of just verbally explaining the process. That way, it sticks in a fun and creative way!
"Learning is a constant process," Sumit says. "The day we stop learning is the day we die, if not physically, then at least spiritually. With creative apps flooding the app store, I constantly look for new and innovative techniques to create consumable stuff."
In the future, Sumit hopes to start physical classes that teach thinking out of the box. He says that when kids play a video game, they are bound to think within the rules of that game, but when they create something, the sky is the limit.
"Creative tools like the iPad can enhance confidence in creating art and animations, as students have the freedom to change every aspect of their art elements without fear," Sumit adds. "Anything can be replaced, modified or manipulated. This increase in confidence and willingness to try new things makes them better contributors in today's competitive global society. Mobile Art Academy is committed to building such a society!"
Visit Mobile Art Academy online to learn more about the great ways they're integrating technology, learning and fun here! Become part of Mobile Art Academy's society … join a class and start sharpening your skills today!