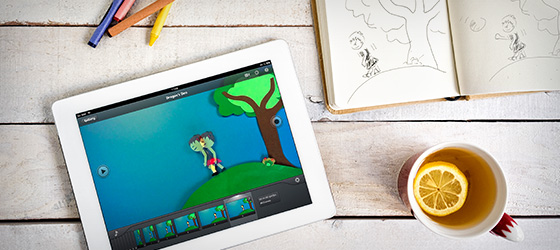 It makes me very proud that our products are used quite often in the classroom. Teachers and students love how powerful the software is while still being child's play to use. More often than not, the students figure out how it works, then teach it to their teachers and fellow classmates!
To make it even easier to unleash creativity in the classroom, now through Sept. 9th 2014, many Boinx Software titles are 10% off. EXTRA CREDIT: customers receive a complimentary license for Mouseposé (a $9.99 value) to make their in-class presentations shine even more. For volume discounts for educational institutions, please contact the education sales team.
Making Stop Motion Movies
Educators around the world are excited about iStopMotion. And so are their students! It's no wonder, because learning with iStopMotion is a lot of fun. It teaches soft skills such as teamwork, structural thinking and planning, plus it provides immediate satisfaction, keeping students engaged. Stop motion animation can be used in many different contexts and in all classes, to reinforce language, math, even science lessons.

Recently honored with an Editor's Choice Award from Children's Technology Review, iStopMotion for iPad makes it really easy to make stop motion movies. Need more proof? Watch the Animation Chefs review iStopMotion for iPad.

Your Own TV Studio
BoinxTV is your broadcast truck without the truck – at a fraction of the cost. Combine live camera video, clips, photos, 3D graphics, lower thirds, audio and more to create a stunning recording or live video. With BoinxTV, your students can easily create a newscast for your school and record events like lectures, sports, concerts, and more.
I've decided to make this available at an extra special price, so if you've been wanting to create your own television studio, you are that much closer to making your dreams come true!

Show & Tell
Make your presentation an unforgettable experience for your audience. Focused on visual storytelling, FotoMagico runs circles around other standard presentation packages when it comes to ease of use, powerful messaging and impact on the audience using pictures, movies, text, music, narration and sound effects.

About Your Complimentary Mouseposé License
Mouseposé is a virtual spotlight that helps you to spice up your PowerPoint or Keynote presentation. When turned on, Mouseposé dims the screen and puts a spotlight on the area around the mouse pointer, easily guiding the audience's attention to an area of interest.
If you purchased through FastSpring, your complimentary license for Mouseposé will be sent to you automatically within five (5) business days after your purchase. If you purchased at the Mac App Store or if you purchased iStopMotion for iPad, claim your complimentary license for Mouseposé (Mac) by sending your purchase receipt to sales@boinx.com