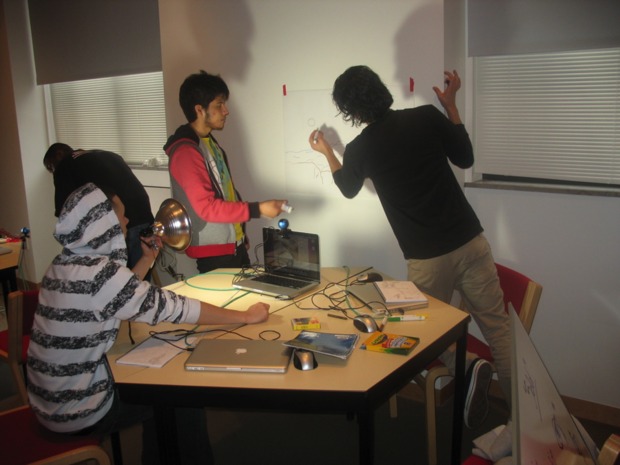 The Nelson-Atkins Museum of Art in Kansas City, Missouri, is a place where the power of art engages the spirit of community, according to its mission statement. With its innovative programs like New Dimensions, it's no wonder spirits are high.
New Dimensions is the museum's most technologically oriented program for students, and currently, it consists of three classes: Curator for a Day, Museum Analytics and Creative Exploration. The third class uses different programs to challenge students to think creatively about art projects, like iMovie, Garageband and, you guessed it … iStopMotion!
The class is open to grades 7 through 12, and it's field-trip based. Teachers from schools, both public and private, around the KC area can go on the museum's website and request a specific set of dates that works best for them. Transportation costs and lunch are also completely covered by the museum. The program is set up to be as flexible as possible for teachers, putting the focus more on the student experience rather than the pains of putting together a field trip.
In Creative Exploration, students are given a basic history and overview of animation, just in case they aren't very familiar with it. Afterward, they are given a tour of the museum galleries to give them ideas and inspiration for their big project, which they will create over the next two to three days. In a recent example from the spring, a student made a video with an egg hanging from a tree, which is actually a work of art from the modern and contemporary collection at the museum. The students printed a photo of it and used it in their animation.
"It's pretty open to whatever the students want to do as long as they try to include something from the museum," says Brent Bellew, the New Dimensions teacher. "Sometimes, however, we let the students just create something 'inspired' by the collection rather than something which integrates an actual work of art. We mostly just want them to go through the process of creating a stop motion based animation and don't worry too much about the end result."
The majority of the program is spent in the classroom using MacBooks with iStopMotion and adjustable webcams to create an animation with some sort of narrative. Students work in groups of four with each person in a specific role: Director, Producer, Cameraman and Art Director. Creativity is encouraged in the animation creation, and every material you can think of has been used – be it clay, paper cutouts, whiteboard drawings or other various odds and ends. Eventually, they edit the animated clips together into a single cohesive piece using iMovie. At the very end of the program, students gather around and watch the work their peers came up with.
"I think stop motion is a fantastic learning tool," Brent says. "Students learn very quickly that it takes a lot of patience and planning to achieve their original vision. They also learn to work together as a team, with each person providing feedback and making sure that they've completed their portion of the work.
"The stop motion project specifically teaches our students about narrative structure and technology," he continues. "It's also an entirely hands-on approach to learning. Once the students begin their animation, all of their learning comes from that hands-on experience and very little from the teacher's instruction. They learn through experimentation and self-expression. I think that's why it's such a popular program here at the museum."
For more on New Dimensions, or to check out the museum's other learning programs, please visit http://www.nelson-atkins.org/. Do you have any museum-worthy ideas for your own iStopMotion animation?